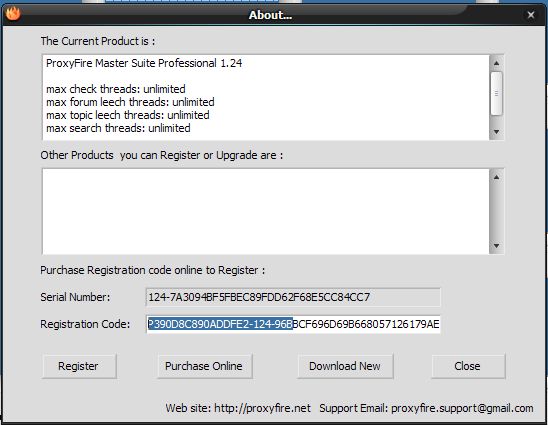 - -
ProxyFire Master Suite Professional 1.24
Proxyfire
is a powerful proxy server hunter and checker, which can not only
support HTTP, SOCKS4, SOCKS5, Tunnel, SSL SMTP (E-Mail) proxies
checking, but also classify them into SOCKS proxy, High Anonymous proxy,
Anonymous proxy, Transparent proxy and Gateway proxy. It's a strong and
multifunctional tool, including Forums Proxy Leecher, Search Engines
Proxy Leecher, Proxy Scan, IP to Country Query, Proxy Filter, RBL
Filter, Dangerous IP Filter, Hostname Filter etc. You can get thousands
of fresh proxies per day by using Proxyfire.
Features::
* Support Anonymity, SSL/Https, SMTP/EMail, Gateway, Socks4/5, Dangerous IP Test
* Support SMTP/EMAIL proxy Test
* Support Port, Country, dangerous IP, Duplicate Filter
* Support Planetlab/CoDeeN proxies Filter
* Support RBL, hostname Filter
* Support different type of forums leeching(support LOGIN)
* Support non-forum proxy sites
* Support different search engines leeching
* Support SYN scanning
* Support SYN scanning before checking
* Support IP to Country lookup
* Support Leech proxies from FILE, URL, FTP, EMAIL(pop3)
* Support proxies port connecting Test
* Max check threads:
unlimited
* Max forum leech threads:
unlimited
* Max topic leech threads:
unlimited
* Max search threads:
unlimited
Direct Download:::
[You must be registered and logged in to see this link.]